Restore WhatsApp Backup from Google Drive to iPhone 
Shawn, November 23, 2021
5 min

read
1548
"I have just bought a new iPhone 13, so I'd like to transfer all my old Android device data to a new device. Is there a method to transfer my data to iPhone? How would I restore my WhatsApp data from Google Drive because I've backed up my crucial data there?"
In this article, I will show you how to restore WhatsApp Backup from Google Drive to iPhone in a simpler and effective way.
Let us talk about how to serve your purpose. 
Part 1: Is there an official way to transfer WhatsApp Backup from Google Drive to iPhone? 
Many iPhone users who have just shifted to iPhone from Android ask whether they can transfer Backup data back from Google Drive to iPhone or not.
Unfortunately, there's no official method that can serve this purpose. Android and iPhone devices work differently. Android users back up their data in Google Drive while iPhone users save their critical data in iCloud storage.
In this regard, you don't have to put extra yards. Instead, you'd only need to connect iPhone and Android devices with the help of a third-party tool, and that would be enough.
Part 2: How to Directly Restore Backup from Google Drive to iPhone with iTransor for WhatsApp
Since everyone wants to transfer Backup from Google Drive to iPhone, it is essential to know about the appropriate method. You'll find many third-party tools with reliable and promising services. However, iMyFone iTransor for WhatsApp sets apart all the other third-party tools.
It comes with a pretty slick user interface and serves your purpose better than you expect. Using this tool, you can share any of your WhatsApp data to iPhone. 
Moreover, other third-party tools ask you to perform tricky tasks to transfer your data, but iTransor for WhatsApp keeps everything relatively smooth and straightforward. You can also avail iTransor for WhatsApp's free trial to assess how the software works. 
Features
iTransor for WhatsApp has come up with some unbelievable features for you.
Using "iTransor for WhatsApp", you can download your backups from Google Drive. There wasn't any such feature available in the past, but now you can explore this incredible feature as well.

If you want to restore Google Drive WhatsApp backup data to your Android or iPhone device, it allows you to serve your purpose with minimal effort.

Apart from exporting Google Drive backups to iPhone and Android, you can also explore these backups to your computer with the help of iMyFone iTransor for WhatsApp.

Since iMyFone Company has hired a professional team, you can expect this software to be in your favor every time you wish to use it.

Using this tool, you can directly transfer data from iPhone to Android or Android to iPhone without any other tool.
Steps of transferring Backup from Google Drive to iPhone
Step 1: Download iTransor for WhatsApp
Navigate to iTransor for WhatsApp's official website and download the application from there. 
After installing it, you need to launch it in the first place. Next, you need to hit Restore/Export WhatsApp Back option. Later, you'll need to click on " Import Google Drive Back.
Step 2: Log into your Google account.
In this phase, you need to log into Google ID and follow the onscreen instructions to proceed further.
Step 3: Export to Computer
Now, you only need to press " Export to Computer after selecting the Google Drive Backup. Next, the program will start to proceed with your request.
Step 4: Account Verification code
In this phase, you need to follow the on-screen instructions to set up your WhatsApp account again. It would help if you waited for a while after entering the verification code.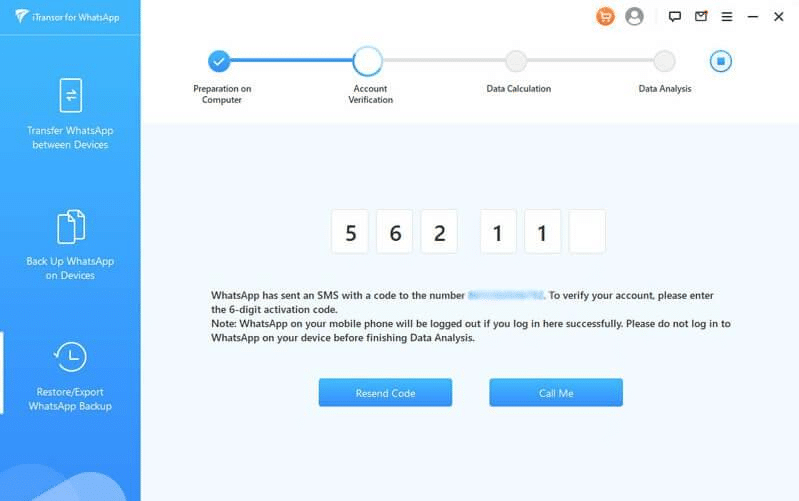 Step 5: Export the data
Now, you can export the WhatsApp Backup to your iPhone. You can also select the particular you'd want to export. After deciding it, hit the Export button and get your job done.
Part 3: Bonus Tip. How to Transfer WhatsApp from Android to iPhone? 
If you want to transfer WhatsApp from Android to iPhone, iTransor for WhatsApp can be an ideal option. Using this spectacular third-party tool, you can serve a purpose quicker than you think.
Let us talk about step by step guide to transfer your data using iTransor for WhatsApp.
Step 1: Connect your device.
After launching iTransor for WhatsApp, you need to hit the" Transfer WhatsApp between devices option". Later, it would help if you connected both the devices to your PC
Step 2: Open the developer
Enable the USB debugging option on your Android device after navigating to the Developer option. Later, it would help if you also gave iPhone's passcode to trust the PC.
Step 3: Press the Transfer option.
Now, all you need to do is hit the " Transfer" option for serving your purpose. Later, you need to set up your WhatsApp account on your iPhone. Without logging into your iPhone, you won't be able to access your data.
Step 4: Your Job is Done
Now, you've successfully transferred your data from Android to your iPhone device. It will remove the data from your Android device.
Final Words
Those who buy iPhones the first time may face some issues regarding restoring their WhatsApp Backup from Google Drive to iPhone. You can find different methods online to solve the problem. Among them, the best and easiest way is using iTransor for WhatsApp to get your WhatsApp data back in your iPhone. 
Besides, iMyFone is offering up to 60% off discount on the software for student customers, you can get 1-Month Plan at only $20.95.
Shawn
"The Web as I envisaged it, we have not seen it yet." Shawn is one such technophile since he built his first Commodore 64 with his father. Thereafter, he spiced up the tech space with a blend of quirkiness and illuminating blogs. Spends most of his time in his computer den criticising other technophiles' opinions.
Related posts