How to Permanently Erase Data from USB Flash Drive?
Shawn, August 16, 2021
3 min

read
384
How to permanently erase data from USB flash drive? A USB flash drive is one of the storage media that changes hands most frequently. You often borrow or even lend USB Flash Drive, right? So, therefore it is very important for you to move all the contents of your personal data to other storage media. However, there are also times when you have to wipe the USB flash drive if it is going to be borrowed for a long time for the safety of your personal files.
How to permanently erase data from USB flash drive? The most appropriate way to wipe a USB flash drive is to use the AweEraser data eraser. This software is recommended by many people and has received great testimonials from its users. What makes this software so good?
AweEraser is claimed to be able to delete 100% of your files without leaving file traces. This is quite important considering that file traces can be used as material for file recovery by irresponsible people who can harm you if the files that are recovered are private files or files that are confidential in nature.
AweEraser is also safe and will not transmit data to third parties. You also don't need to worry about the physical condition of your USB Flash Drive because the AweEraser won't physically damage your USB Flash Drive and shorten its lifetimes. So, everything is safe, right?
How to permanently erase data from USB flash drive using AweEraser?
To erase data from a USB flash drive using the AweEraser, you have to select one of the 3 available modes.
Mode 1: Erase data from USB flash drive
This is a mode where you can delete multiple files or folders of your own choosing. Open the AweEraser software and select Mode 1: Erase Files / Folders. Then please select the files you want to delete. If you have selected all of them, click Erase Now and the erase process will run.
Mode 2: Wipe USB flash drive
Mode 2 is the mode you use when you want to completely erase the contents of the USB flash drive at once, like formatting. The difference is by using AweEraser, the deletion will run more perfectly and without file traces.
Mode 3: Wipe Free Space in USB flash drive
If you have formatted the USB flash drive with other software or with the built-in features of Windows and MacOS, then you can use Mode 3 to delete any traces of files that are sure to remain. By using mode 3, you will also get some additional space because the file traces that take up space have been deleted.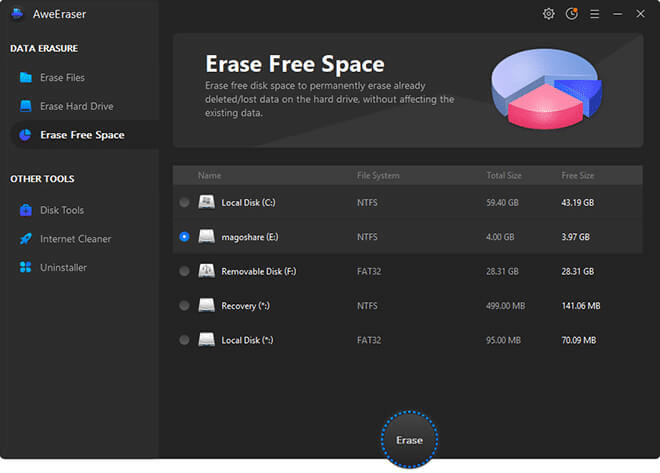 Data security on a USB flash drive can also be threatened by viruses. Therefore, it is highly recommended that you erase all data on the USB flash drive even after receiving your USB flash drive back after borrowing it from someone else.
So, how to permanently erase data from USB flash drive? By using AweEraser, all files and folders will be deleted and your flash drive will be free from the threat of viruses which could also be designed to steal your personal data on the USB flash drive.
Related posts