Convert 4K MOV Video to MP4 with WinX HD Video Converter Deluxe
Shawn, December 24, 2019
4 min

read
743
Ever since the MP4 video file format was introduced, there has been a constant debate on whether it outclasses the longstanding MOV video file format. Although both MOV and MP4 are two of the most commonly used video formats, individuals often tend to convert MOV to MP4 for better support and ease of use. There is plethora of tools that allow you to convert from MOV file format to MP4 but one must remember not to compromise quality in the process. 
In this article, we learn about converting MOV files to MP4 using the WinX HD Video Converter Deluxe, one of the most popular tools available online. 
But before we dive in, let us learn more about MOV videos, and why you must convert MOVs to MP4s. 
Why Convert MOV to MP4? 
Originally developed by Apple, the MOV was designed to support the QuickTime movie player. The video format is largely compatible in Apple devices such as iPad and iPhone. The MOV format is also compatible with Windows operating systems but working on the windows environment comes with certain complexities. 
Today, the MOV format is largely used by the newly released cameras as well as drones. Although Apple users can easily get a quick access to MOV videos, the file format is still far-fetched for Windows users to access. Not to mention, the MOV format comes with its own drawback and limitations that are elaborated in the paragraph below. 
This is where the need to convert MOVs into MP4s arises. 
Common Problems with the MOV Video Format 
There are certain problems that are commonly faced by the MOV file format users which are a reason for them to shift towards MP4 converters. Format incompatibility is a common issue with MOV Video Formats. The format is often not recognized by TVs, Median Players and old computers. Also, you may encounter problems playing 4K MOV videos in HEVC codec on QuickTime, Windows Media Player, VLC Media Player and even Mac. 
Moreover, video editing tools like Adobe, Sony Vegas, HitFilm, Windows Movie Maker, Sony Vegas, DaVinci Resolve and GoPro Studio cannot import MOV videos in HEVC codec. Therefore, the most effective way to resolve this issue is to convert MOV into MP4. 
There are various tools online that allows you to convert 4K MOV Videos to MP4 format. Using such apps, you can also convert MOV in HEVC codec to MP4 H.264 codec. 
One of the most trusted apps that you can use for the purpose is the WinX HD Video Converter Deluxe. Read on to learn more about the software. 
Why Use the WinX HD Video Converter Deluxe?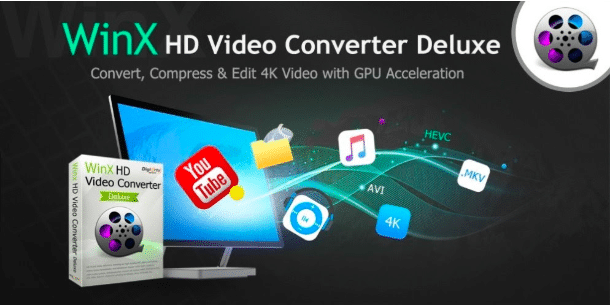 Converting from MOV to MP4 is easier than ever with the WinX HD Video Converter Deluxe. It is a GPU-accelerated 4K HD video converter which is best applied to convert videos from MOV format to MP4 in matter of seconds. WinX HD Video Converter id supported in Windows 10 and below. 
There is no dearth of features in WinX HD Video Converter Deluxe which makes it on par with the best video convertors for Windows. The points mentioned below gives you a rundown on the highlights and bonus features of the software. 
The tool converts videos 47x times faster with GPU-acceleration without atrophying quality in the process 

It is compatible across various devices such as smartphones, cam recorders, action cams, drones, DSLRs, tablets and more. 

The tool supports more than 370 video formats and allows 420+ outputs including M2TS, MP4, MOV, MKV, AVI, and H.264/

HEVC video converter

It comes with six interface languages including English, French, Chinese, German, Spanish and Japanese. 

Easily edit videos using the in-built video editor 

You can also save thousands of videos from various video sharing sites online. 
How to Use the WinX HD Video Converter Deluxe?
One among the myriad benefits of this tool is that it is very easy to use. The conversion from MOV to MP4 is a three-step process. All you have to do is click on the video button to let the MOV video load-in, following which you need to select MP4 in the output profiles. 
Next, you must hit the 'Run' button to start the conversion and voila! You get the result in seconds. 
You can download WinX Video Convertor free trial & get special discounts on the purchase.
Related posts