16 Best ROM Sites in 2022 – 100% Safe and Working
Shawn, May 10, 2022
14 min

read
48482
Reliving your childhood memories are now possible through ROMs. However, due to the popularity of these sites, you're likely to download malware along with your nostalgic games.
We've listed down the best ROM sites in 2021 where you can download and play games without being at risk.
"Romspedia features an extensive database of ROMs counting over 10 000 original titles. The website offers simple navigation, a powerful search engine and emulators for all of the consoles. On top of that, they have a contact page where you can request missing or new games and even a blog section where you can read gaming news and articles. If you have trouble emulating a game, they offer BIOS files that merge whit the emulators.
All of the features above make Romspedia the number one website for downloading ROMs and emulators list on this post."
This site lets you to play all the retro games available out there. So, 90's kids you will not be disappointed once you visit this site. This site has a very large catalogue of games from consoles like MAME, Atari, SNES, GBA, NES and many more. The roms are also available for both android and iOS.
Romsmania

You can find the biggest collection of ROM games and Emulators just by visiting Romsmania.
Any user is easily attracted to the simplicity of its design where a simple yet very powerful search engine fronts it all. As you scroll down, popular consoles with their corresponding number of downloads and the most popular games are showcased for you to select upon.
It is also convenient for starters as well as geeks as it gives a lengthy explanation on what and how ROM and emulator work on the homepage.
Furthermore, with its very powerful search engine as its vanguard, you can explore its massive collection of ROM games and emulators to your heart's content.
Gamulator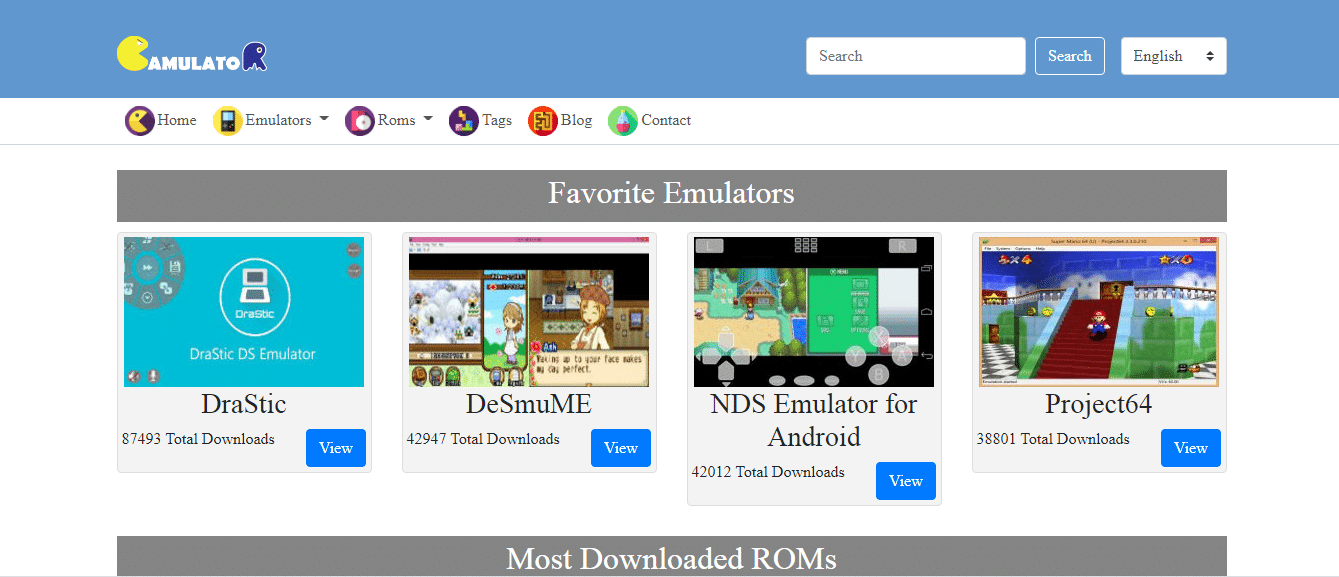 Gamulator is one of the best places to find and download all the ROMs and games for your arcade emulator.
The homepage makes it easy for any user to navigate as it shows the favorite emulators, the most downloaded games, and the most favorable consoles at the very first glance.
With a very simple homepage where you can see all your favorites, with sidebar ads that aren't so irritating to the eye, Gamulator is considered one of the safest ROM sites available on the net.
There are undeniably lots of websites out there but Gamulator is indeed one of the best sites I do recommend to others because I feel safe from viruses and malware as I enjoy my favorite classic and retro games on my personal computer.
Rom Hustler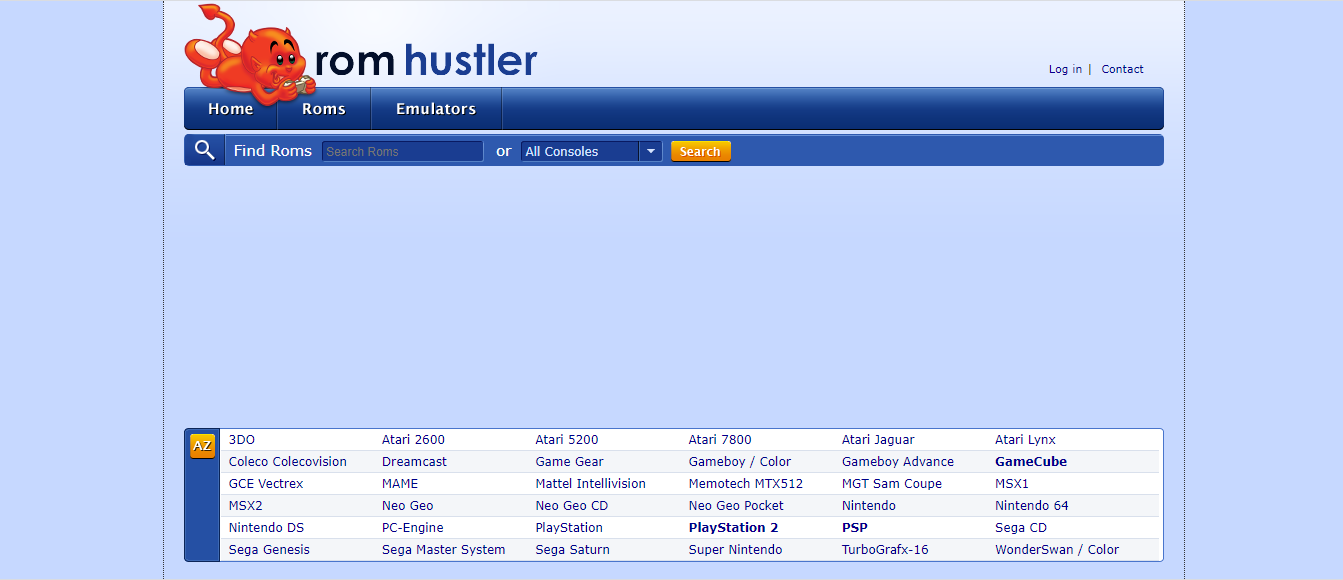 Another safe ROM site to download your favorite ROMs and emulators is RomHustler.
Despite having a very simple homepage, it houses quite a number of ROM and emulators that you can download safely. Its interface is very basic that what you see mostly are text and minimal images. With a few banner ads to bother you, this sure is one of the best and safest sites to get your favorite ROMs.
You can find what you're looking for easily as you can search through the search bar provided where you can indicate whether you're searching for ROM, console or emulator.
You can access the site's archive of ROMs and emulators even without a membership account thus makes it more convenient for casual visitors.
Retrostic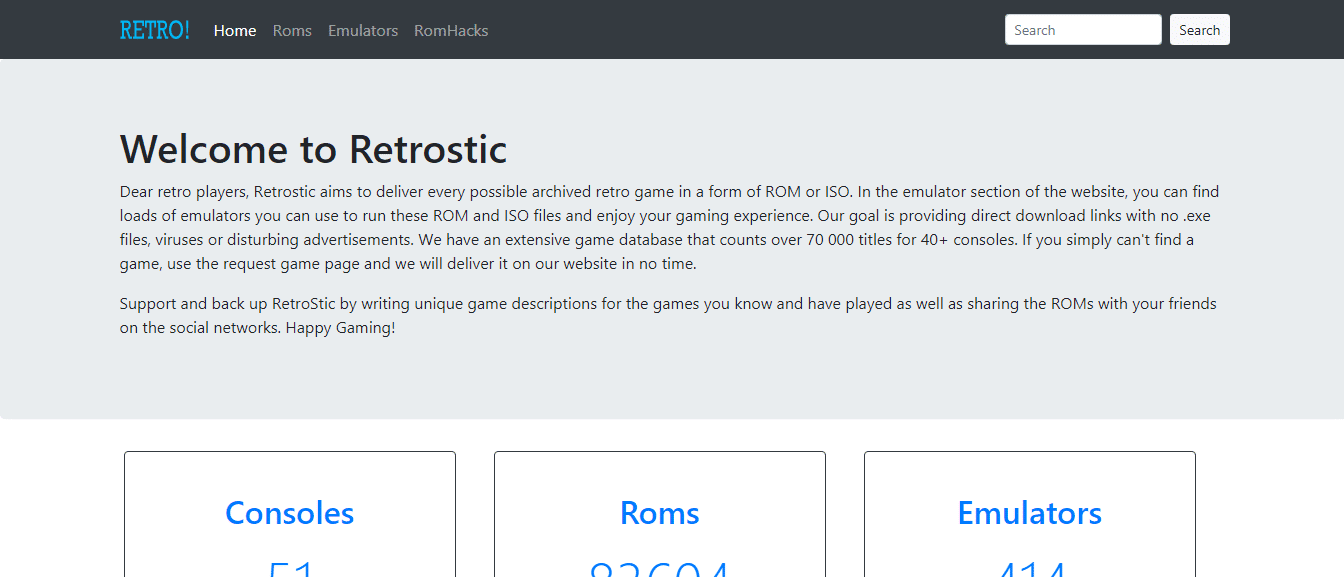 Another safe site where you can download ROM is Retrostic. The goal of the website is simply to bring to deliver every possible archived retro game in a form of ROM or ISO. They have a very abstract interface that boasts 51 consoles, 83604 ROMs, and 414 emulators.
They have a number of ROMs users can access and download as well namely GB Advance, Super Nintendo, Nintendo 64, Nintendo DS, MAME, and PS1 ROMs. The interface is well organized thus making the website pleasing to the eyes for exploring.
The simple organization of the interface lifts anxiety and troubles of the user thus giving a great user experience. Users can safely download ROMs and their corresponding emulators without the hassle of bombarding pop-up ads during the experience.
Explore their site and download your favorite retro games safely and for free.
Cool ROM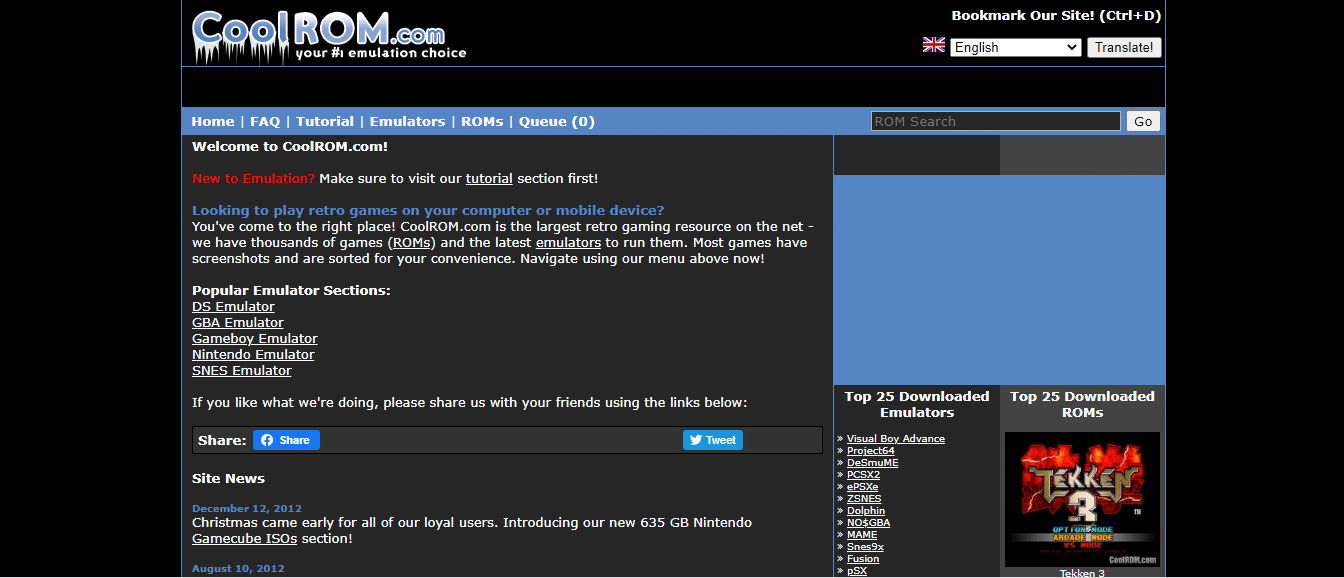 An addition to our list of safe and working sites where you can download your favorite ROMs is CoolRom.
Two things are what make the site cool over the others. First is its step-by-step tutorial that would be a great help especially for newbies still trying to get a grasp on what they're trying to get at.
The second feature that makes it better than the others is that they offer ROMs and emulators not just for PCs but also for mobile devices of any operating system.
They offer emulators for phones ranging from Android phones, iOS to Windows. With this feature, one can safely download and enjoy his favorite ROMs on his/her mobile phone with a simple click. With no ads to bother the user, this makes this site great among others.
Vimm's Lair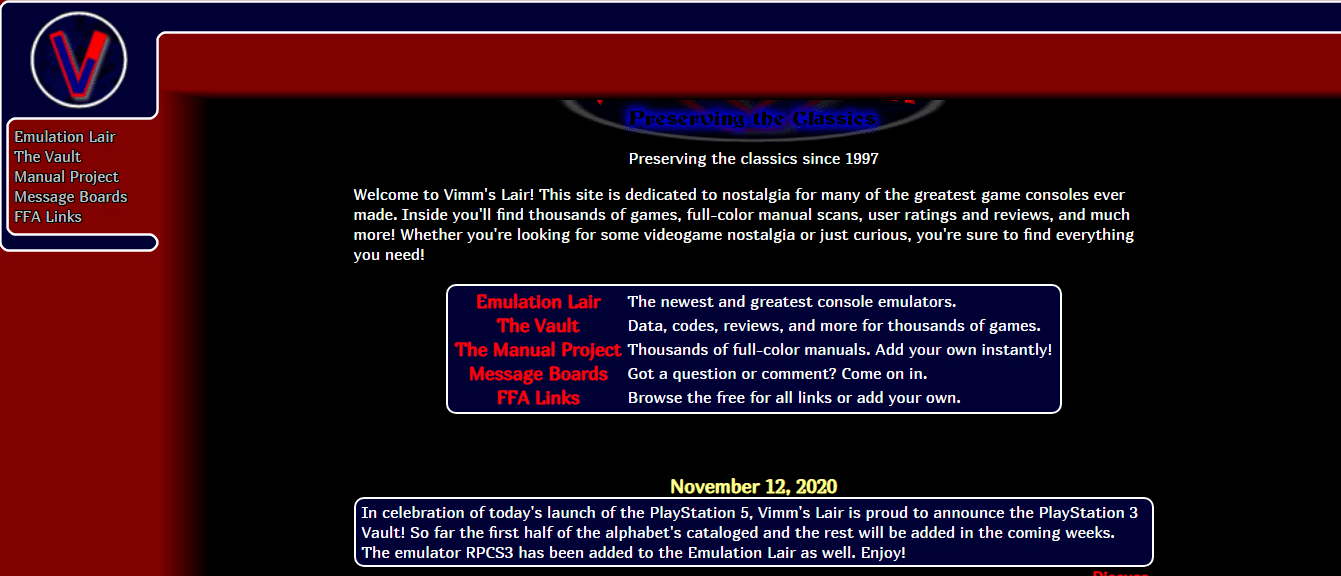 This site is highly dedicated to keeping nostalgia away from the greatest consoles and games ever created. It is one of the longest-running sites where you can download your favorite classic ROMs safely.
With its unornamented and simple to navigate homepage, you can enjoy all your desired ROM by exploring the site's content through the left side navigation bar. The vibes that you get as you explore the site is that kind of a classic feel because of its color combination that gives a spooky vampiric lair vibe.
Through the emulation lair, you can safely download a number of emulators and through the vault, you can get and access everything that you need as the site has been archiving anything possible since 1997 without the trouble of aggressive pop-up ads.
DopeRoms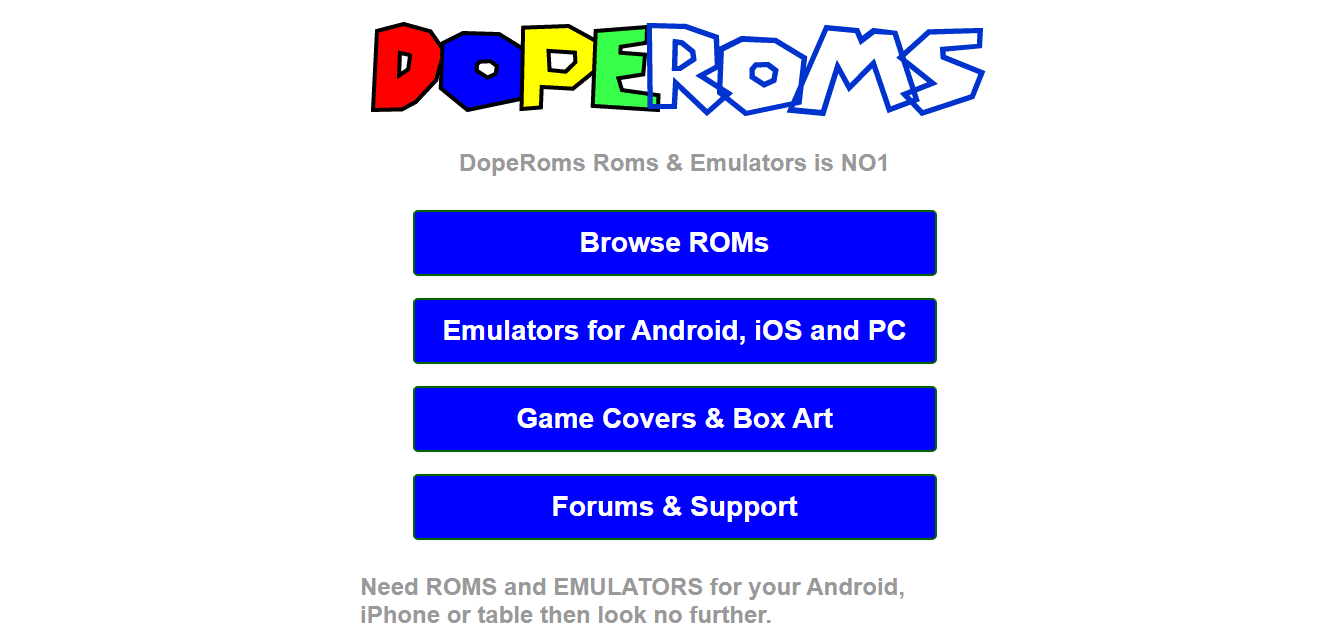 DopeRoms is one of the safe sites where you can safely download your retro ROMs and emulators without the risk of any spam, malware, or viruses. They are bringing to the table thousands of ROMs and emulators that any user can download and enjoy for free.
If you're tired of playing and just want to wander around, you can also collect game covers and box art on their site where they offer hundreds of thousands of dope game covers that you can print and plaster to the walls of your room.
Users can access and download thousands of dope ROMs to their PC or phones for free as the site offers emulators that are specified for each. You can explore the available ROMs for the platform of your choice with a simple click on their homepage.
RomUlation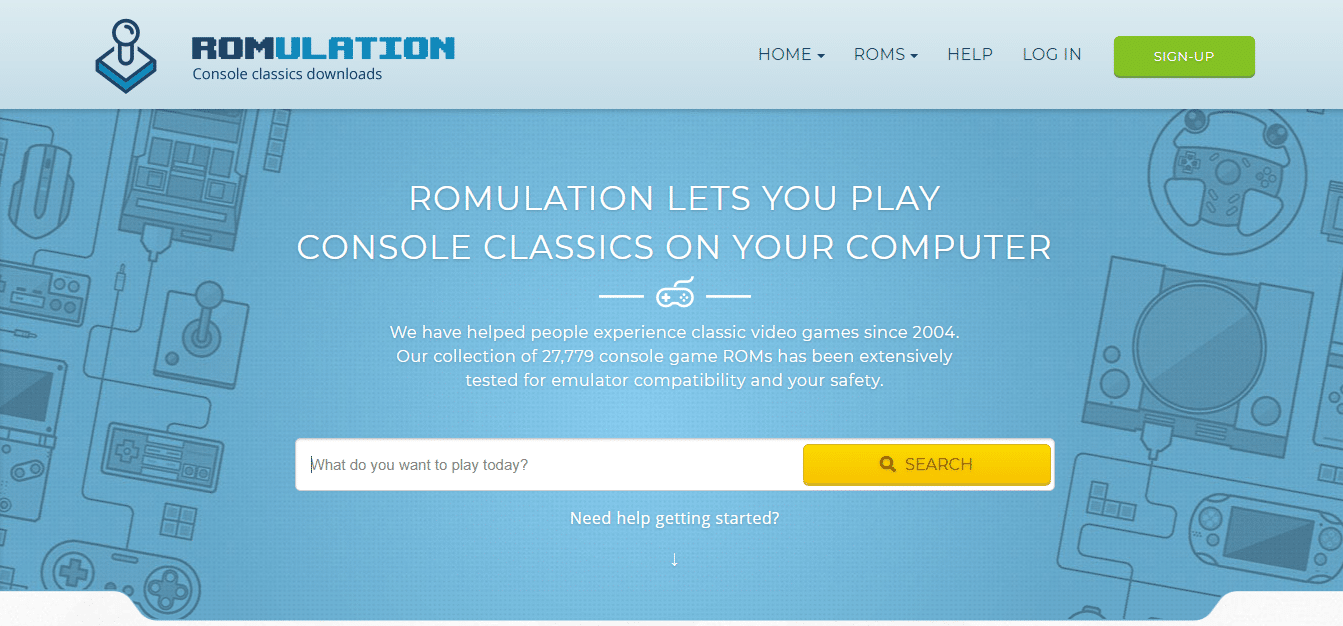 If you want a clean site where you can download your favorite classic ROMs safely and for free, then RomUlation might be the one for you.
You can start with their very powerful search bar in finding your desired ROM, emulator, or console but if you want to explore further, you can just scroll down and surf through the popular video games that are offered per platform.
You can easily see and explore the newest games and the most popular ones out there with a few scrolls in their homepage. They let you download and play your desired console on your computer with a single click without suffering from a barrage of aggressive pop-up ads.
They have helped people experience classic games since 2004. Their collection of 27,779 games ROMs plus their consoles has been rigorously tested for emulator compatibility and has been proven safe over and over again.
Emuparadise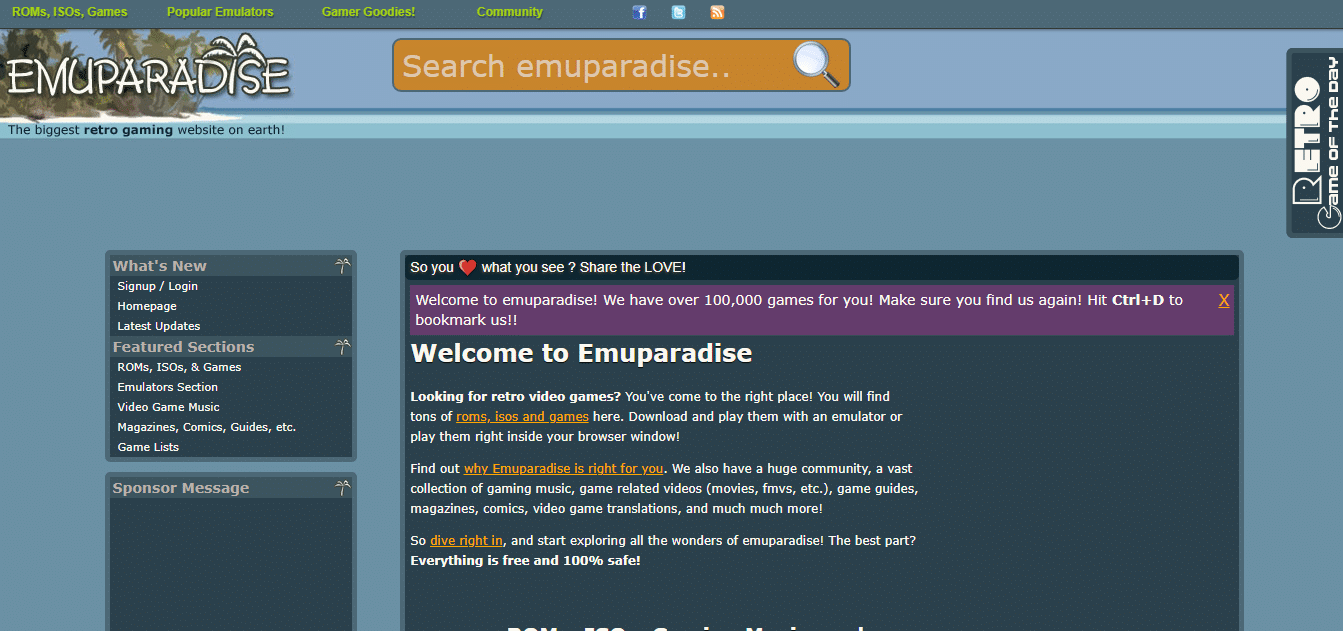 Emuparadise brands itself as the biggest retro gaming website on earth. It is indeed a paradise for gamers as it stacks over a hundred thousand games for its users.
Its homepage might look a little bit bland on the design, mostly wordy with little images and plain colors, but it's a home for thousands of ROMs you can safely download.
It is a good and safe website where you can download your favorite retro games without the trouble of aggressive pop-up ads.
Although it may seem to look disorganized at first because of the lack of bounds of the panels, certain categories can be seen by the side of the panels which can help you navigate and find what you need in the site. Once you find your ROM, you can download it with a click and start playing like in paradise.
WowRoms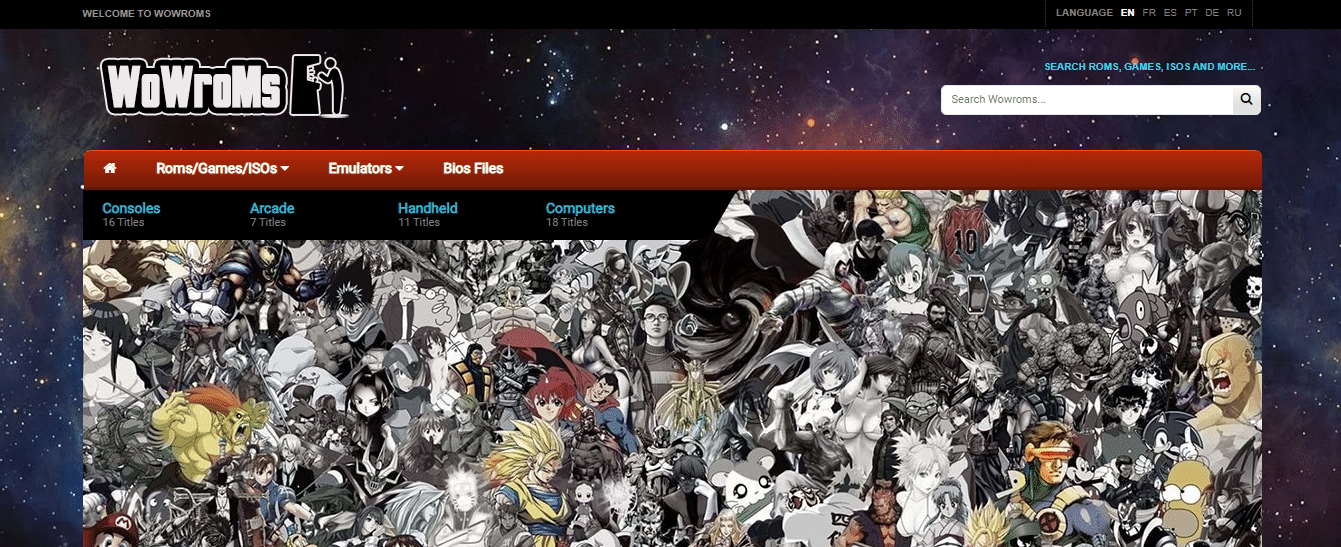 WowRoms will give you a wow just as you are landing on their homepage through their gigantic poster where you can find your favorite characters.
The poster will give you excitement remembering the days you were just watching these characters and now that you got to play them by downloading ROMs for free to your PC, free from virus or any malware.
It is a good ROM site but other than that, it also offers game manuals to those who want to master every game they play.
It also offers game magazines where you can find magazines relating to your favorite games, read up on them and discover more about the games than just playing them plainly.
The site also offers access to the music of the games to those who are obsessed with the music of the games. These are all accessible on the homepage with just a click of a button.
Romsuniverse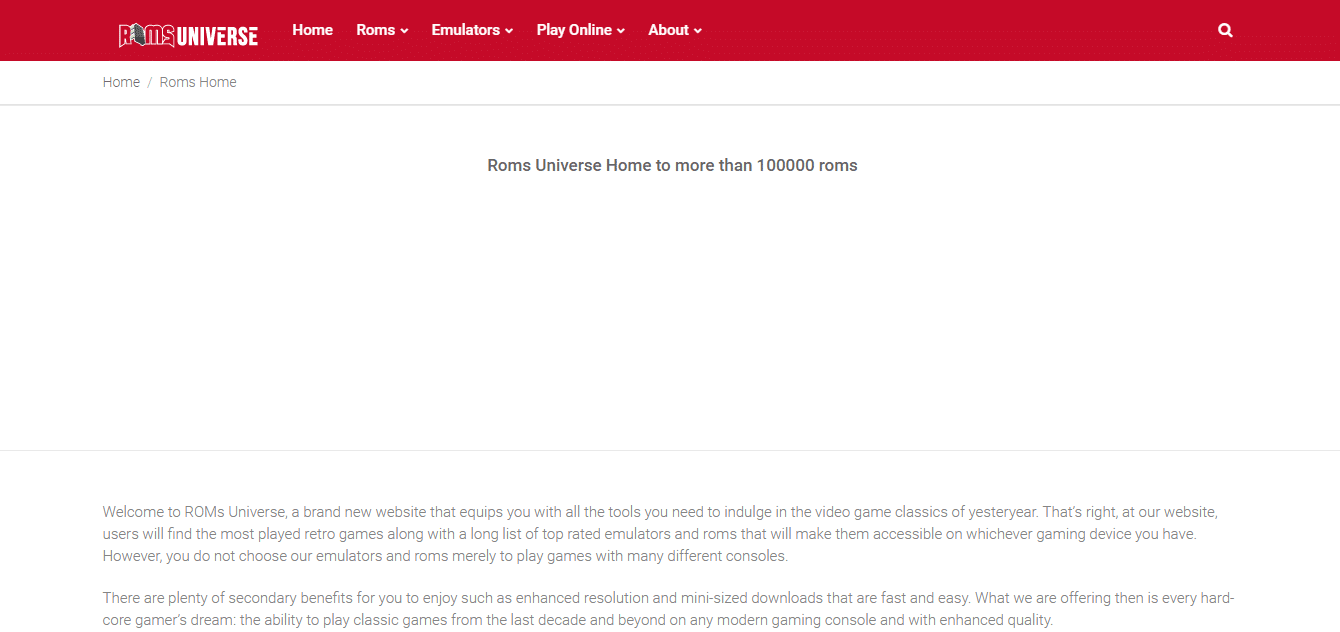 Another safe website for downloading ROMs is Romsuniverse and what's great about the website is their plan homepage design that even adults wouldn't find so irritating.
Since their launch in 2018, they have accumulated over a hundred thousand ROMs that users can safely download to their PC.
Although the site might look empty at first glance, you can navigate it and find what you want easily through their simple navigation bar which will cater to everything that you need with their dropdowns.
If you don't feel safe in downloading emulators and ROMs, you can opt to play online with others as the website offers that kind of feature. You just have to click on Play Online button on the navigation bar and everything will be set up for you.
Sony ISOs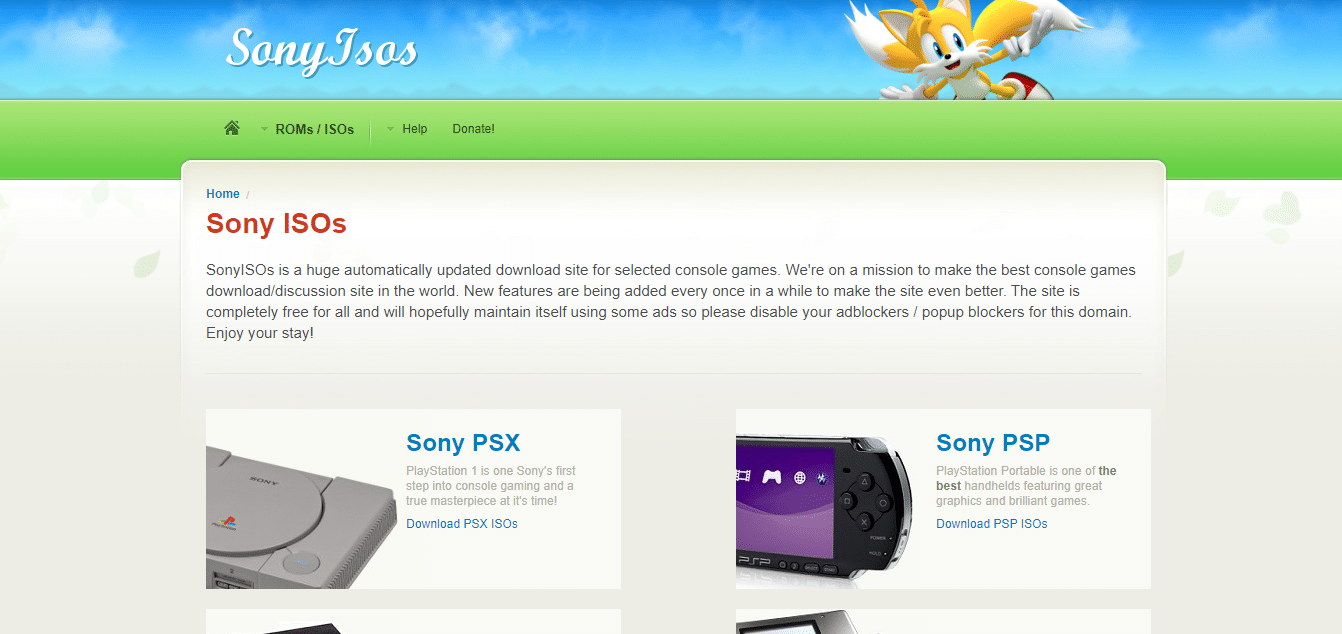 An addition to our list of safe ROM sites is the Sony ISOs and what I love with their site is their unpretentious homepage where you can pick your desired ISOs and consoles in just a click.
On their homepage, they showcase the ISOs and emulators they support and once you've chosen one, you'll automatically be redirected to the list of top and popular games they offer for that certain kind of emulator.
You will never feel the trouble of forceful pop-up ads as you explore the website as the website relies on donations from its benefactors in order to bring you the best and comfortable experience.
Another thing that makes this site great is it automatically updates itself whenever there's a new available ROM out there thus you won't be left behind when your friends talk about the latest trends out there.
The ROM Depot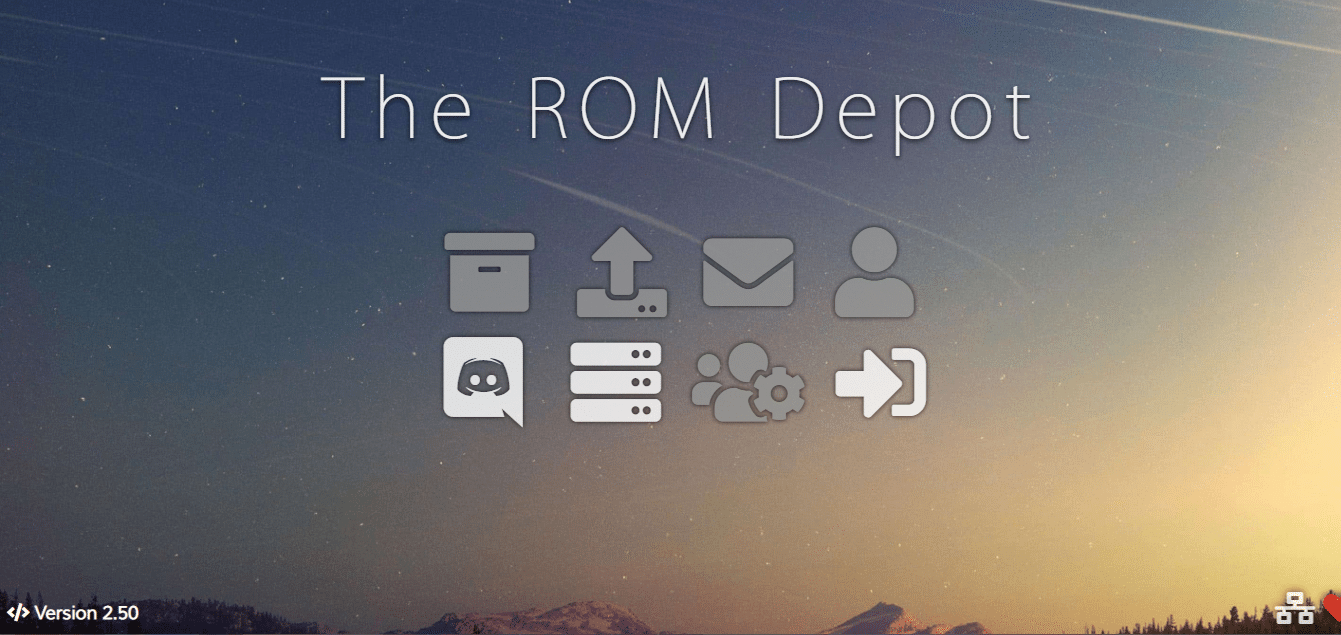 The ROM Depot is one of the coolest sites where you can download ROMs that I have found. Their homepage is very out of this world with very minimal words and just buttons. You would be amazed and interested at first glance that you will eventually find yourself registering an account to their site.
Although the site sure has a cool interface, one needs to register an account in order to access their archive of retro and classic games and emulators but that will only take a minute or two. You won't even notice that you've already created one because of the amazement you feel as you explore their site.
One awesome feature is you can access their official discord in a click through one of the homepage buttons thus you will be updated on anything that'll come up on the site.
ConsoleRoms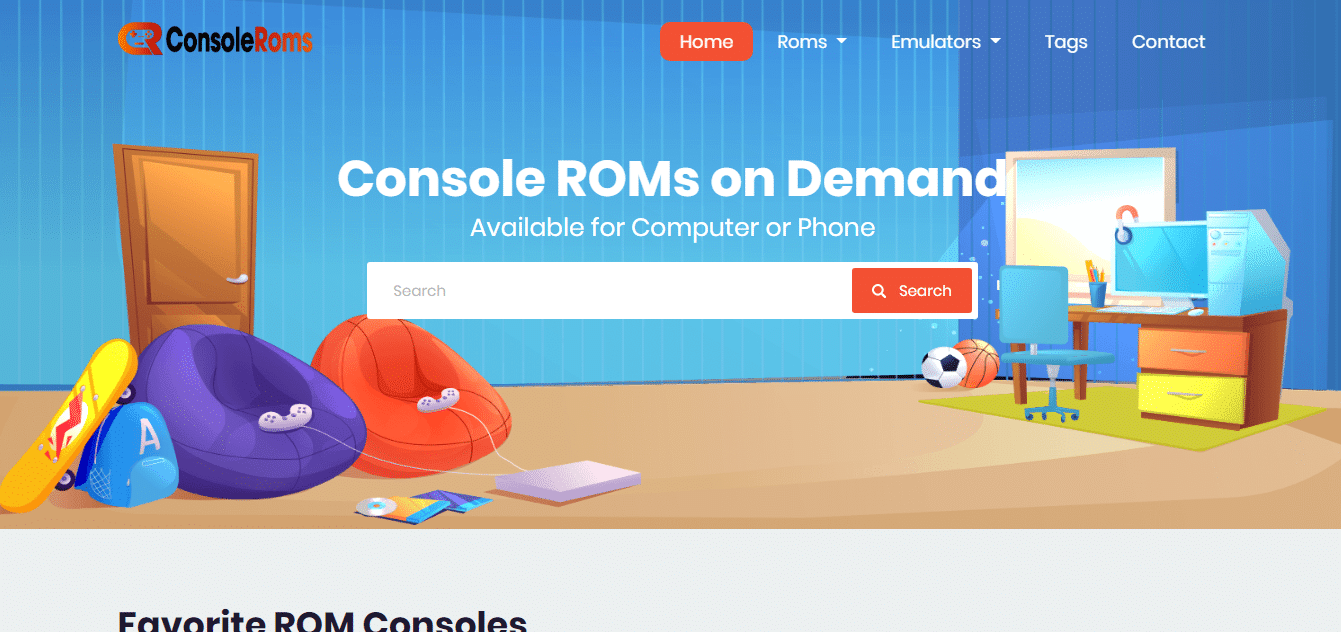 At first glance, the homepage might look like a website for kids but ConsoleRoms is home to thousands of Roms that you can safely download. The site offers emulators, consoles, and ROMs both for PC and mobile use as well thus making it convenient to its users as it offers its services to different platforms.
The site offers in-demand console ROMs which you can find by using its robust search bar on the very homepage.
As you scroll down further, you can see the most popular consoles along with the total number of downloads they got, justifying how users interact with them, marking them safe from viruses or malware.
Additionally, you can see the most popular ROMs, with their rating and downloads, that you can download safely in a click.
CD Romance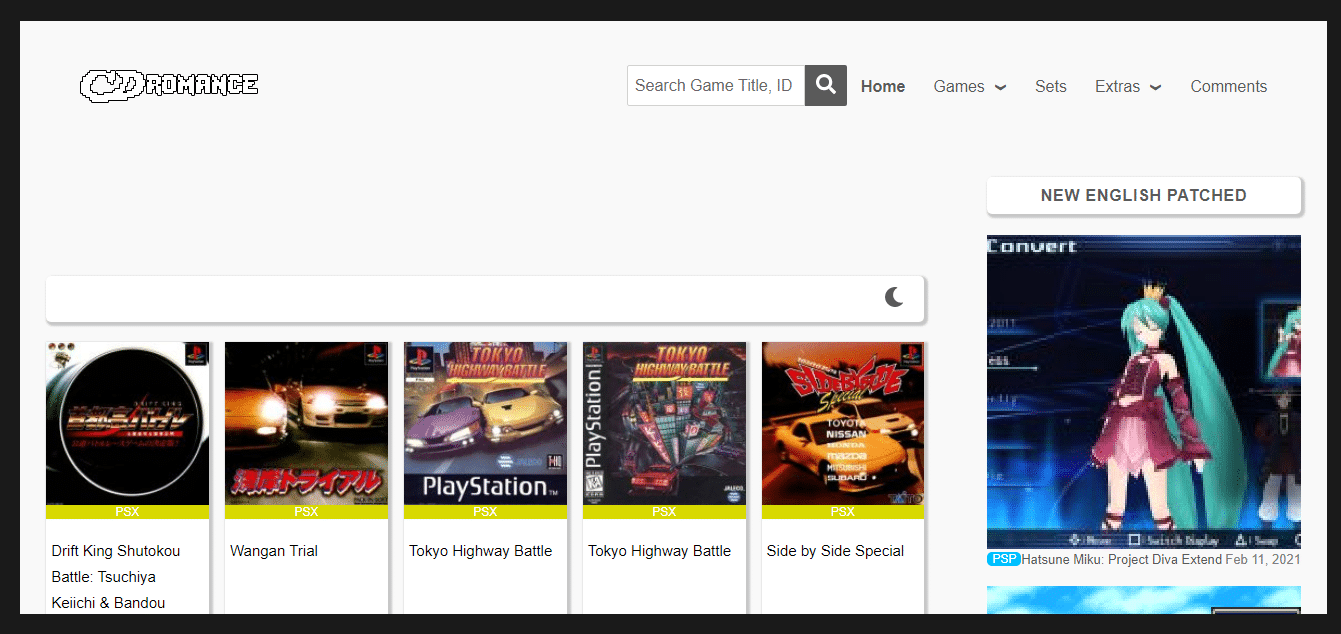 Last on our list is CD Romance, a safe ROM site where you can access and download retro games and ISOs for free.
Despite having quite a bland and plainly designed interface, they offer over thirteen thousand games for PS2, PSP, Gamecube, and more. They are proud that they specialize in offering obscure games nearly everybody heard as well as the classics all users love.
They offer ROMs that are supposed to be Japan exclusive as well so you will absolutely love their content.
Despite being new in the industry, they are gaining quite popularity because they offer translations and other features that aren't usually available in any other ROM site.
The website does have a few promotional banners on its pages, but the homepage is free from any pop-up ads, keeping its clean user-interface. CD Romance is pretty responsive – click on the game you want to download and you're good to go.
On the upper left there's a "Comments" button where you can check out other ROM downloaders' feedback, a nice little feature that enables you to engage with other users.
Conclusion
ROM sites are widely accessible to users all across the world. However, some of the ROM downloaders have encountered viruses and malware from their games.
The websites listed above are the best ROM sites to reminisce childhood games safely. It's important to read reviews on a site before clicking on links to avoid mishaps.
FAQ
Is it safe to download ROMs?
It is safe to download ROMs as long as you download them from safe sources. Listed below are some safe sources where you can find and download your desired ROMs for free.
Romsmania
Romulation
Gamulator
Retrostic
Doperoms
How do I play my downloaded ROMs?
You will need to download an emulator or console that suits your desired ROMs first in order to finally play your downloaded ROM. Only with a console or emulator can you play your ROMs.
Where do I download emulators and consoles?
Emulators and consoles usually are offered in rom sites along with the ROM for the fact that they are supposed to be used together.
Emulators can be downloaded for free on those sites, once downloaded you can then use it to run your ROM.
Do I need a PC to download and play ROM?
Most emulators are windows, Linux and iOS compatible but some sites are now offering emulators that could run on android and iPhones.
You can download the emulator of your choice that is suitable for your PC or phone, then download the rom that you want to play.
Can I download ROMs in my phone?
Yes, you can download ROMs into your phone and use them provided that you have downloaded an emulator that is compatible to your phone. Some of the best ROM sites that offer free and safe emulators for mobile phones are CoolRoms and DopeRoms.
Can downloading ROMs from rom sites damage my computer?
That depends, some ROM sites aren't secure and bogus that are just trying to capitalize on your clicks and might even let you download viruses and malwares to your device but there are safe rom sites where you can download your ROM and emulator freely and safely.
Related posts