5 Tips For Safe Online Dating In 2021
Shawn, August 10, 2021
6 min

read
1406
With lockdowns becoming more widespread and the need to keep a safe distance essential, online dating has become more popular than ever before. However, meeting digitally still entails some risks if you're not careful.
For starters, sharing too much personal information could lead to cyberstalkers watching your every move online. You'd be surprised how much a motivated creep could find out about you with just your full name and some photos.
Then there's the fact that some people on dating sites aren't who they claim to be. Phishing scams are pretty standard, and dating websites are no exception.
Luckily, by using your head and following some essential safety tips, you can experience safe online dating and meet that special someone.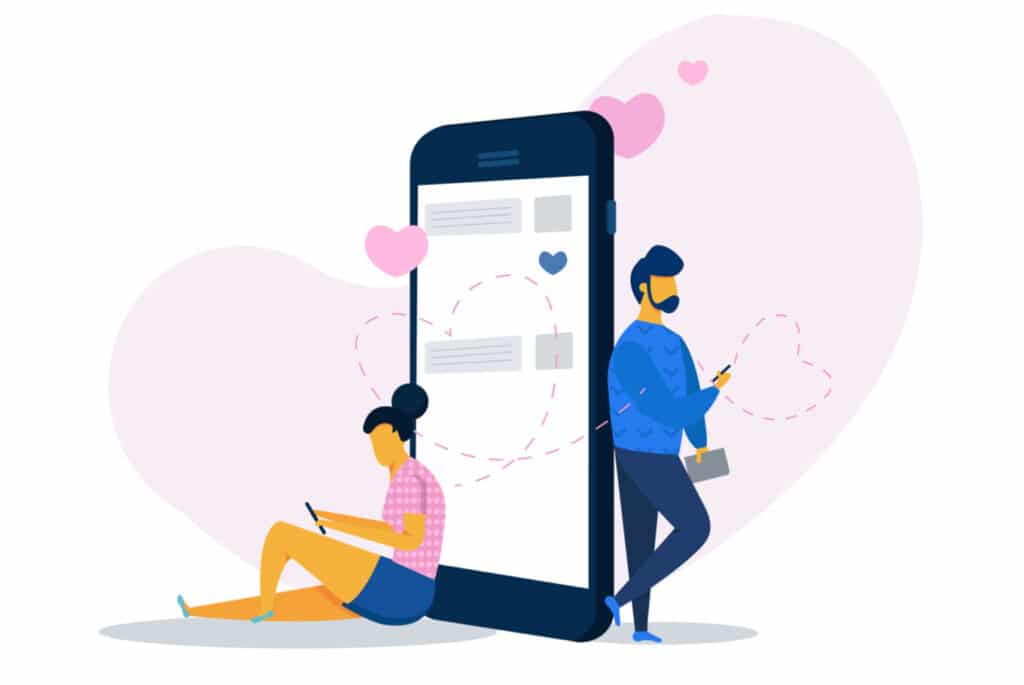 Why is online dating so popular?
Online dating has been gaining traction for quite some time now. Furthermore, this popularity has been propelled even further by the coronavirus and the ensuing lockdowns. People were forced to stay at home, but you couldn't contain their desire to meet new people. Whether it was video calls or sending love letters with drones – there was no stopping romance.
During this time, online dating sites were an essential part of any romantic activity. Newcomers to the dating scene and experienced veterans alike had to mingle on the same platforms. 
However, it's important to remember that hackers and online scammers can target you anywhere online, including online dating sites. Furthermore, increased interest in online dating leads to more activity from scammers as well. And let's not forget about cyberstalkers and abusers who are active even in online chatrooms like Omegle.
While all of this can sound quite frightening, it's pretty easy to ensure safe online dating by following some guidelines.
5 essential dating safety tips
Before diving headlong into the online dating scene, be sure to read through our tips for safe online dating.
1. Use a VPN to hide your location
While it's unlikely that a match will be able to see your IP address while you're communicating, no site is safe from data breaches or leaks in the future. In that case, it's best to change your location with a VPN to hide your actual IP address from ever getting stored in some database.
Additionally, a VPN will encrypt your entire online traffic and make you safe from online surveillance. This additional layer of security is crucial for LGBTQ+ individuals using Grindr in authoritarian countries. By the way, with a VPN, you can change your location and find dates all over the world.
2. Don't share too much personal information
As mentioned earlier, a cyberstalker needs just a little piece of personal information to find out more about you. It could be your full name, location, or even a picture that you've used on other websites. Then the stalker will be able to extrapolate more details about you and follow you around on every part of the web. 
To avoid this, use unique pictures for your dating profile and don't share too much personal information. We recommend using a nickname or a fake name, changing your age by one year or two, and not showing a city you live in. Check this article for more security tips: how to protect yourself online.
3. Research your potential date
However, keep in mind that social media profiles are an excellent way to verify that someone is who they claim to be. If a potential partner shares their social media profile on a dating site, be sure to look around. Don't worry, this doesn't make you a stalker. You're simply confirming that the other person is truthful and not trying to catfish you.
4. Don't rush to meet your match
No matter how exciting it is to meet someone new, be cautious and avoid falling head over heels immediately. Instead, offer to have a video chat or a simple phone call. That way, you can have a conversation and get to know each other without putting yourself at unnecessary risk.
5. Inform someone about your date
If you still have some doubts about the person you're meeting, tell one of your close friends about the date. Send their picture and the date location. In case that person offers to change it, decline politely and stick to the plan. If you decide to go somewhere else, don't forget to inform your friend.
Most popular online dating apps and sites
With people having so many specific preferences, it's not surprising that many different dating sites and apps cater to particular niches. Here's a glimpse at some of the most popular online dating apps and sites.
Tinder

is your go-to dating app. Popular all around the world, Tinder is suited for both hookups and long-term relationships. Most users have only photos, but some take time to write detailed bios.

Bumble

is quite similar to Tinder, but here women make the first move. If they liked you, you'd have 24 hours to respond.

OkCupid

is a veteran dating site (and now an app). The profiles are in-depth, and filling your own will show how well you match with each member.

Match

is one of the oldest dating sites around. Launched in 1995, it allows users to create a profile and connect with other potential partners securely. The site even organizes singles events around the world.

Eharmony

is a dating site that takes a scientific approach to find a match. With over 20 years of matchmaking experience, Eharmony is the perfect place to find the most compatible partner.

EliteSingles

is for people who are only interested in serious relationships. The site ensures that every profile is active and legitimate. 

SIlverSingles

is a dating app specifically for people aged 50+. As you see, online dating is not exclusive to tech-savvy youngsters.

ItsJustLunch

is a dating site for career-driven individuals who don't have time to set up the perfect date. Instead, a matchmaker is assigned to you who will take care of all the details. All you have to do is show up for your date.
Conclusion
Of course, online dating isn't confined to just websites on your computer. One of the most popular online dating methods is using apps on your mobile phone. That way, you can meet someone in your location much more conveniently.
Naturally, dating apps pose the same threats that are present on dating websites. In fact, they can be considered even more dangerous as your phone is always with you and giving away your location. Thus, it's essential to use a VPN to mask your actual location. 
Whichever method you choose, remember to follow our safety guidelines to keep yourself secure on your search for your soulmate.
Shawn
"The Web as I envisaged it, we have not seen it yet." Shawn is one such technophile since he built his first Commodore 64 with his father. Thereafter, he spiced up the tech space with a blend of quirkiness and illuminating blogs. Spends most of his time in his computer den criticising other technophiles' opinions.
Related posts