4 Tips for Creating the Best Resume Template
Shawn, April 29, 2023
3 min

read
280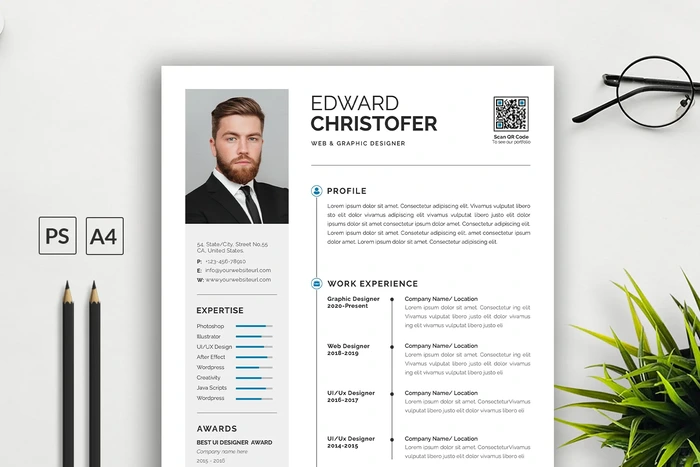 Whether you're changing industries or starting out, this functional template allows you to focus on your skills instead of work experience. It also makes it easy to include volunteer positions, internships, and independent projects to show you have a broad range of experiences.
This ATS-friendly template uses columns to organize your information for a clean look. You can still add your photos for a personal touch.
The first step in creating a resume is choosing the format. Some formats are better suited to particular types of jobs or career paths, while others work well across industries and experience levels.
For a clean and simple template that works with ATS, check out the Basic resume. This template is a good fit for university students and entry-level professionals since it prioritizes highlighting work experience, academic details, and relevant skills. The design of this template has a contemporary feel with the use of color to highlight important information.
For most resumes, it's best to use a traditional layout that makes information easy to read and focuses on important keywords. This template, designed for email marketers, uses a thin sans-serif font to help your information stand out and incorporates red color to make it pop.
The soft colors in this template communicate a professional tone while also looking clean and modern. It also allows you to add a skills section, making it a good choice for a copywriter or content creator.
A traditional layout gives you ample space to fit your experience but doesn't overwhelm recruiters with unnecessary details. The template includes a separate section for "Languages" to showcase a candidate's fluency in multiple languages.
This template prioritizes work experience and provides room for a career objective, which may be helpful if you're making a career change. It can also be expanded into a full CV by adding publications, presentations, and other academic achievements.
Adding a photo to your resume can help you look more approachable, which can be beneficial in less traditional industries. However, you should avoid using photos with others or holiday photos — these don't give a professional impression.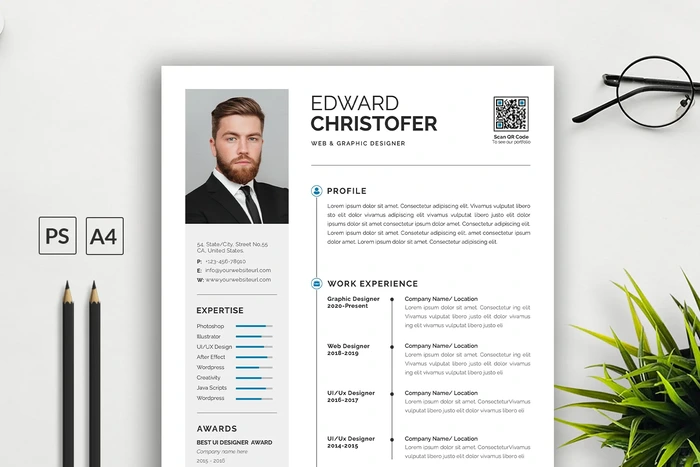 If you're applying for a job at a creative agency or a company that values innovation, you may want to add a little color to your resume. This template from Alessia Curcio uses kaleidoscopic color in the header and footer without overpowering your work history.
This simple template uses a grid layout to create a clean, organized document that hiring managers will be impressed by. It also highlights the most important details (like years of experience) at the top of the page, which is great for job seekers with longer work histories.
If you're applying for a job where your appearance isn't important, it may be better to leave out a photo. However, to emphasize your personality and stand out from the pack, try these eye-catching templates with bold graphics or interesting data visualizations.
These clean and modern templates are simple for ATSs to read but still make an impact with centered sections and a minimalist style. If you choose a template with text that spans across columns, remember that some ATSs read from left to right and ignore columns, so consider moving things around to be safe.
Shawn
Shawn is a technophile since he built his first Commodore 64 with his father. Shawn spends most of his time in his computer den criticizing other technophiles' opinions.His editorial skills are unmatched when it comes to VPNs, online privacy, and cybersecurity.
Related posts